Hello my dear readers,
On Saturday, October 23rd, the Rogues travelled to North Vancouver to play against the Capilano Rugby Club for our third ever match!
Brief Recap on the Rogues
We're still practicing twice a week and it's been hard, let me tell you. The cold and rainy fall does not make going out for practice at 6:30 easy. You'd think as Vancouverites we wouldn't mind. Once you're out there and running, you tend to forget that the atmospheric river even exists. Only when we saunter back to the locker room does it register that we're soaking wet.
We've also been training with the Meraloma's on some nights and boy do they run us ragged. Oh, and a shout out to Matthew for taking us through an entire training session while the coaches attended a Meraloma Club meeting. Thanks, Matty; we love you!
A few weeks ago, we went through the gauntlet playing against Richmond RFC on October 2nd. They hit us, hard – though we were grateful for the intensity of the game – and some of us are taking the (fairly earned) time to recover.
A small group of us also went out to play in Abbotsford at the Thanksgiving tournament called The Gobbler. We joined up with the Chilliwack team and played some good hard games.
Game Day at the Capilano RFC
It was a cold and rainy late October afternoon. Last week, it rained so much, our game against the Scribes was cancelled. So today, we're anxious. Excited to play again.
There's some pride on the line here. We got hit hard by Richmond a few weeks back, and we play Richmond again next week. We want to gauge our improvement so we can take the fight back to them. Since our game against the Scribes was cancelled, this becomes our only chance to test ourselves.
I'm on the sidelines with some others. There's Coach Brennan and Team Dad Deryck, as well as the 4-or-so odd subs we have lined up. A few of us are nursing our bodies in some sort; Aaron is recovering from a nasty cold (non-COVID, thank god); Bradley just had mouth surgery; my rib still aching from a tackle I took poorly.
With the cold weather and the season starting, we're sort of at a skeleton crew, though there are several dedicated fans who keep our spirits high on the field. We have been grabbing players from other teams to beef up our crew, but now they have their own games to play, so we're going without them. Unfortunate but understandable, as their commitments are to their teams.
While our numbers are lower, it does mean that only Rogues will be on the field. When the thought comes to me, I get butterflies. This game will be a good test of not just our skill, but our mental and our spirit.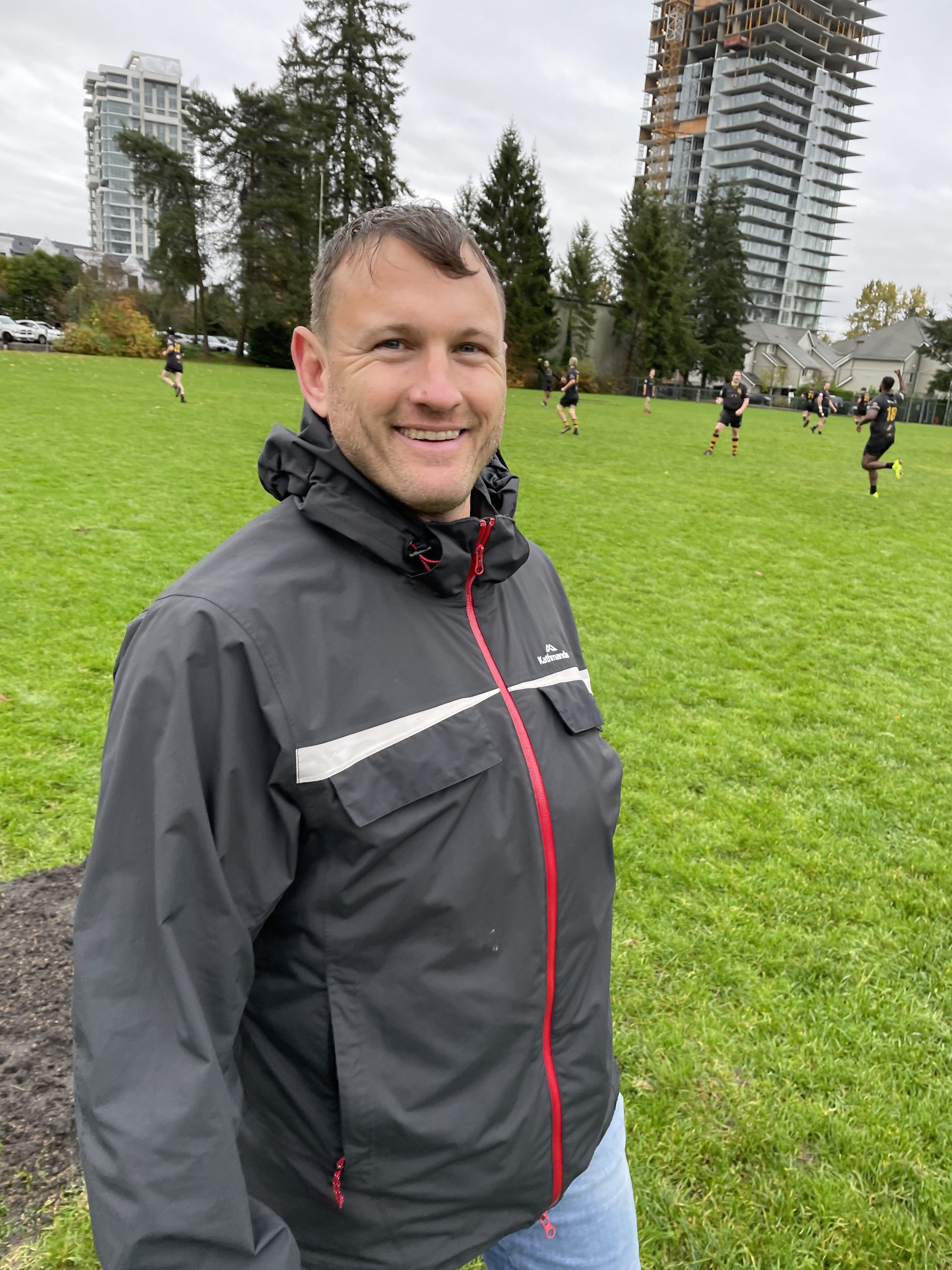 The game begins, and the Rogues are out there, doing our best. This game marks both some returns to the field and some players giving it their first shot. Dimitri has been nursing an injury and has been dutifully coming to practice just to watch the past month or so. Both Leo and Rob had some trepidation about getting out on the field:
"What if I don't tackle correctly?—I don't want to get injured again."
"I'm not sure I'm ready man… I don't know if my skill is quite there yet."
Not only did they play, but they kept playing, and hard. I think they were out there for nearly the entire game. Leo only subbed out to get his leg examined by one of the physios on the sidelines, and then immediately after asked to be put right back in.
Truly, the whole team was putting in work. Without some of our guest players, we had no choice but to play. The players, our team, put it all on the field.
I won't lie to you, my dear readers, we haven't scored a try yet. We're new, this is our third game, and we're still getting organised.
But that's just it. You can see it; we're getting organised. Half-way through, Coach Brennan comes up to me in a moment of pause when he wasn't intensely studying the game:
"Sal, look, they're getting better by the minute. We're forming pods. Taking away their space. Pushing them out. Forcing lineouts or kicks."
I look at Brennan; his focus shifts back to the game but he is absolutely beaming; there's a huge smile all over his face.
We keep going. The ref offers us the ability to surrender and cut the game short, but we say no. We want to keep going.
Then, we're three-quarters into the game. The pace has slowed down a bit. The Caps aren't scoring as much. We get possession, and suddenly we're in their 22. We can taste the try. We figured out how to attack, and we're forcing them to commit multiple players to take down our ball carriers. Closer, and closer. A yellow card goes out, in favour of the Rogues. Now we're playing 15 to 14. It's our chance.
Then, a cheeky turnover and our attack is over and we get pushed downfield. Damn. We were so close.
As the game goes into its final minutes, the Rogues don't stop. We keep bringing the energy to every tackle and scrum. Brennan is approached by some Caps members; they chat for a few minutes, and then he comes up to me:
"I've been getting compliments on the Rogues. Both the team and their fans have expressed their admiration of the grit that the Rogues possess. Even in the last 10 minutes of the game, the Rogues are giving it everything they have. Everyone kept their head up high until the very end. And, as a team of mostly new players, our attack improved as the game went on!? Incredible. The Caps played a clean and friendly game; even though they were better, they kept it respectful. I used to play for the Caps, so this has really been a full-circle moment for me."
I witnessed a darling moment between one of our players, Nico (French Nico, not Tall Nico), who plays fullback, and a player from the Caps team. He gave Nico some tips on how to improve his kicking and complemented him on his performance that day. It was great to see that shared camaraderie between the two teams; the Caps are truly a class act.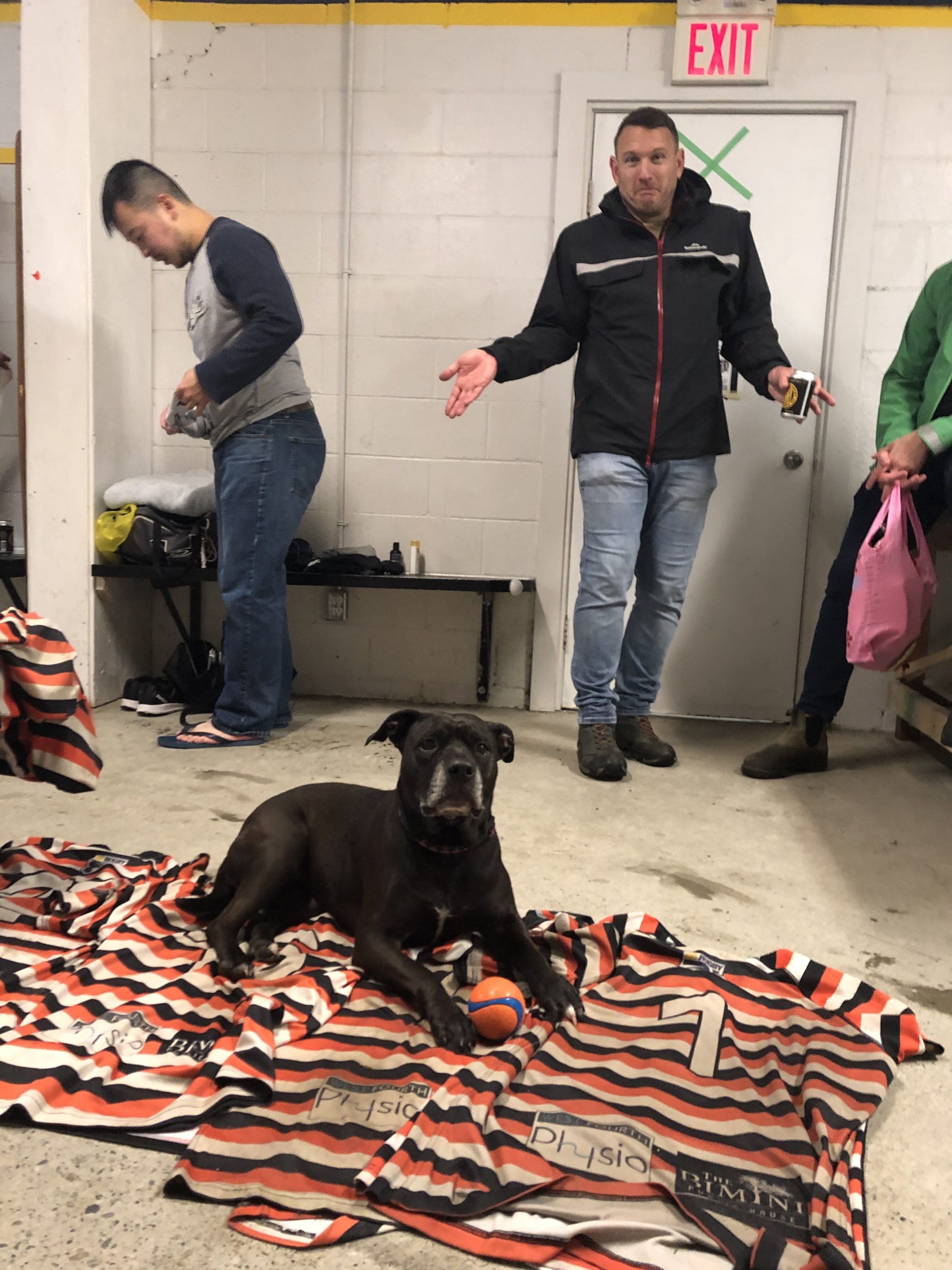 After the game, we get a chance to shower and clean up. The Caps are hosting us at their club, which is awesome. It's tucked away just north of the Lions Gate Bridge and bordered by tall trees. They have two fields, an upper and a lower one. On the lower one they have covered seating attached to their clubhouse. But of course, we were playing on the upper field. The bridge peeks out from behind orange and green canopies; it's odd to be on that side of the on-ramp for once, instead of stuck in traffic. The clubhouse itself feels like a warm cottage welcome after the game, with wooden beams, columns and exposed joists. There's a little covered balcony to the side of the main outdoor viewing area where you could easily sit and watch the rain pour all day. The main hall has high ceilings and is rimmed with awards that the Caps have won over the years. I like to think of the day where we get to start filling out a space like that with our own awards.
The Caps were awesome hosts. Did you know they even have their own beer? That's right, branded by the team itself, sporting their logo in black and yellow. It's a refreshing lager, brewed by Russel. Pretty cool, eh?
Once we're all assembled in the hall, festivities can rightfully begin. That's right, it's just about time for a boat race. But first, the teams do some call outs: like Rogue of the Day, the Caps have a "Dick of the Day", though I'm not sure you want to win that award. Speaking of which, our Rogue of the Day was our team Captain, Mike!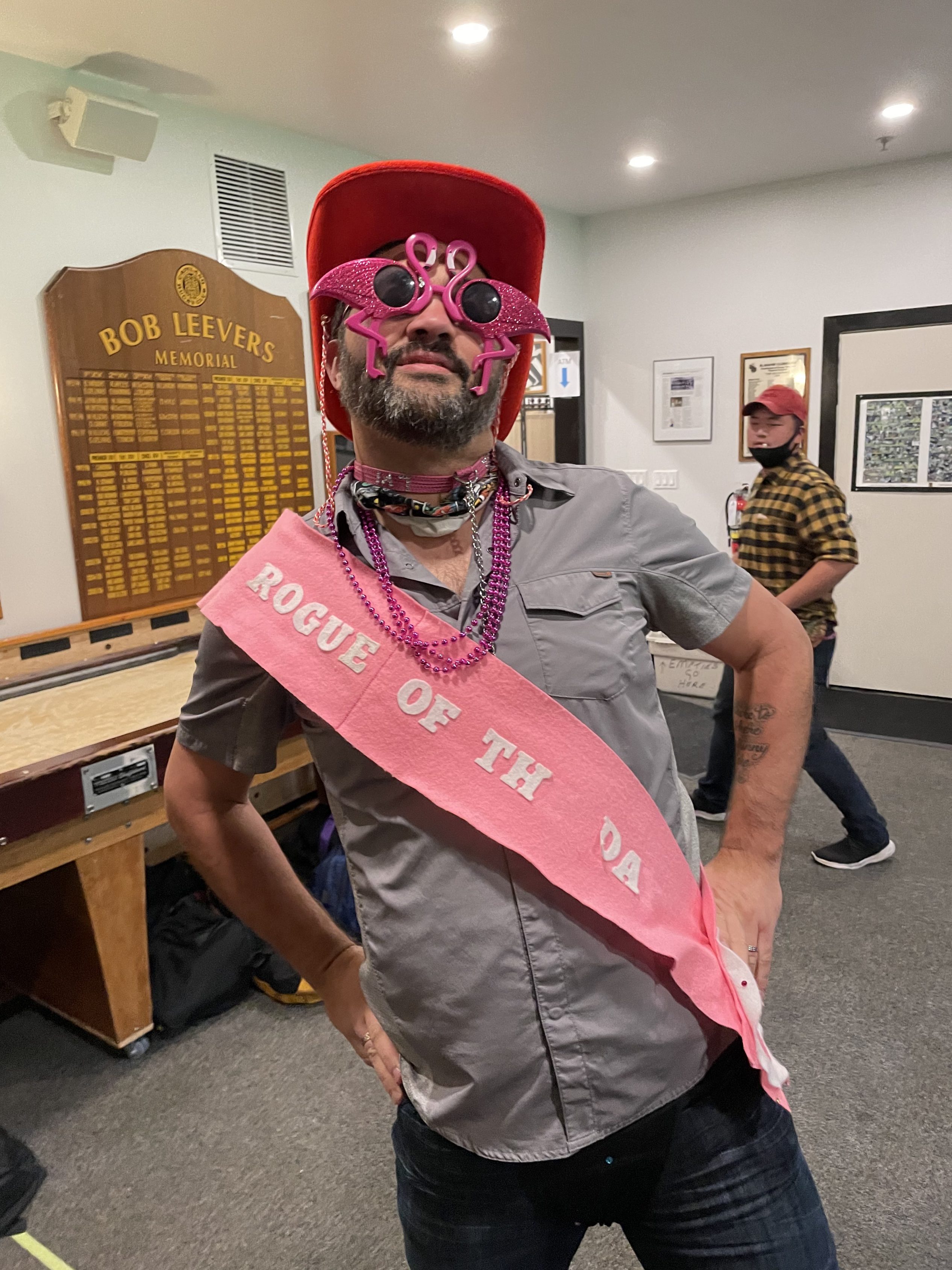 Mike literally puts his nose on the line every single time he plays and manages to come off the field with it bleeding at least once per game. Remember Mike, you tackle with your shoulder!
We get in lines for the boat race, with Mike at the helm. On the Rogues side we got Mitch, Matthew and Tall Nico. Do I even need to tell you who won? It was us, of course. 3-0 baby; the Rogues remain undefeated in beer sculling (well, if you count the tie against the Lomas as a win…). Drinking is clearly our forte. We didn't just win, it wasn't even close.
Afterwards, we were treated to some pizza, enjoyed a few more drinks, and played a couple games of shuffleboard. As usual, some Rogues ended up at Pumpjack to round off the evening.
Alright, thanks for the read, I'll catch you on the other side!
Sal
(p.s., thank you to the lovely Aaron for his proofreading and editing. <3)